Over 70,000 Indian women and girls have launched a grassroots campaign against child marriage, alongside Nobel Peace Laureate Kailash Satyarthi. Many of the women and girls leading the campaign have escaped or survived child marriages themselves. Women and girls alongside male allies took part in 10,000 villages across India, from the Himalayas to the Indian Ocean, for the three-year Child Marriage Free India campaign.
India has the largest number of child brides in the world, where at least 1.5 million girls under 18 get married each year, despite the passing of the Prohibition of Child Marriage Act (2006) raising the legal age for marriage to 18 for girls and 21 for boys. One third of all child brides in the world are in India.
In the 10 years before the pandemic, significant decreases in child marriage had occurred globally, with 25 million marriages averted. UNICEF had estimated that 100 million girls would still be at risk of child marriage, but this prediction increased by 10 million as a result of COVID-19.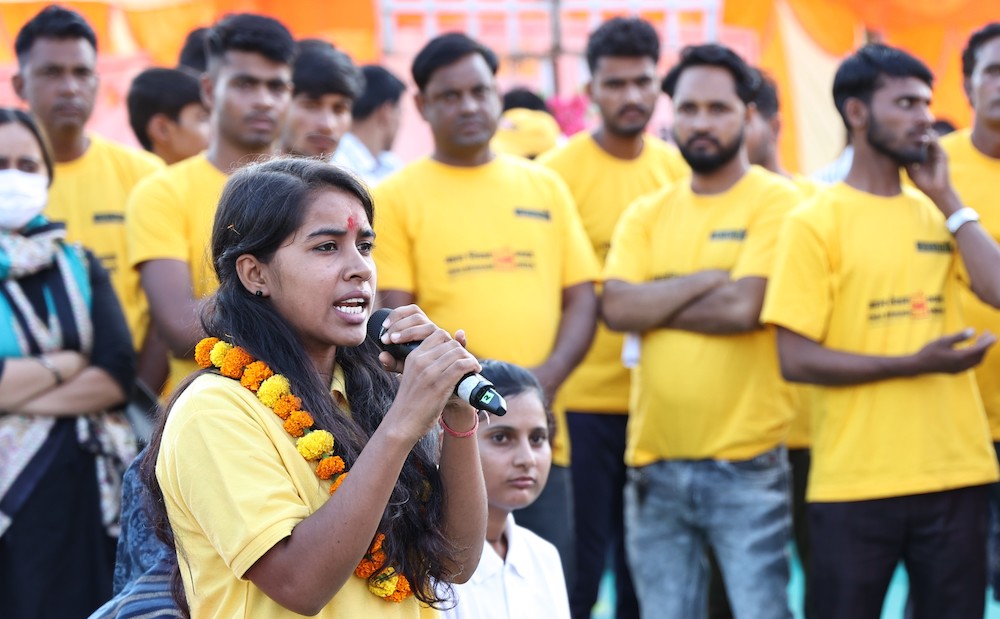 Youth activist Payal Jangid (left) is one of the young women leading the campaign in Rajasthan.
"I fought against my own child marriage and succeeded in stopping it. This gave me immense courage to stop child marriages of other girls in my community. We should come together and work collectively to end this social evil at its roots."
Highlighting the work of the child marriage survivors and activists, Nobel Peace Laureate Kailash Satyarthi said, "Child marriage is a violation of human rights and dignity, which unfortunately still has social acceptance. This social evil propels an unending list of crimes against children, especially against our daughters. A few weeks ago, I called for India to be child marriage-free. This spark ignited the flames of 70,000 women changemakers, proof that millions of women have felt suffocated by this age old oppressive societal custom."
Governments across the world have committed to end child marriage by 2030 through the UN Sustainable Development Goals (SDGs). The SDGs describe marriage before the age of 18 as a fundamental violation of human rights and a direct manifestation of gender inequality. 
Extending support to Kailash Satyarthi's call, 2011 Nobel Peace Laureate Leymah Gbowee, who attended the campaign launch, said: "Child marriage is an appalling practice that exists globally. We must put an end to this human rights violation. Our collective humanity demands this."
Child marriage compromises a girl's development by resulting in early pregnancy and social isolation, interrupting her schooling, forcing her into domestic servitude and child labour, limiting her opportunities for career and vocational advancement and placing her at increased risk of child sexual abuse and partner violence. Early pregnancy increases a girl's risk of death: girls and young women aged 15-19 are more likely to die in childbirth than young women aged 20-24. The risk is even higher for girls aged 14 and under.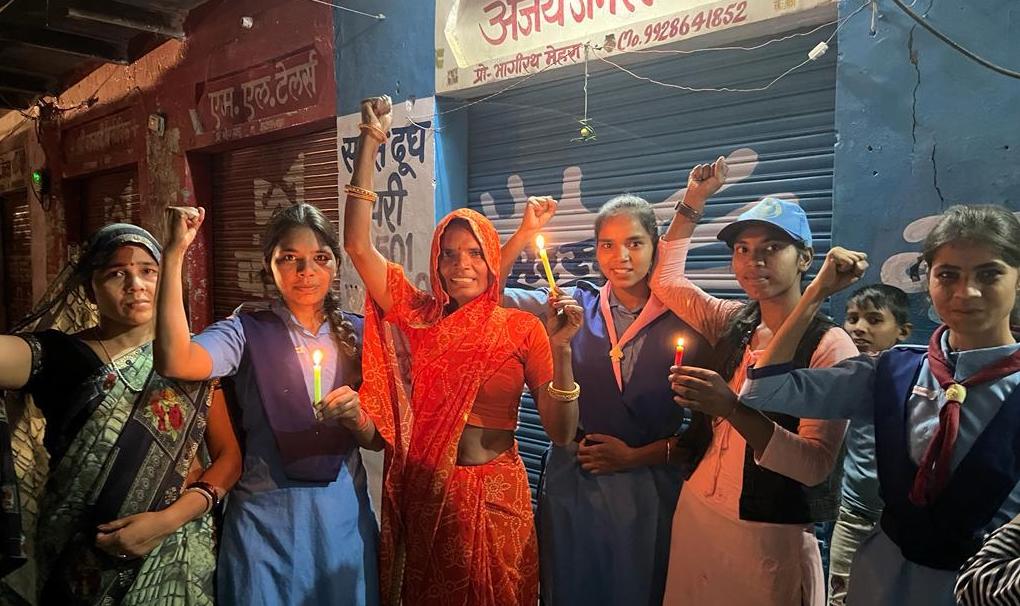 Geeta Devi (in red, left) was one of the women leaders who joined the national launch event, which was held in her village of Navrangpura, Rajasthan. Geeta was married as a child, yet she refuses to allow her own daughters to have child marriages. She made this resolve when she witnessed the marriage of her six year old sister.
"I promised to myself at that moment never to allow my own children to be forced to marry. I am proud to say that my daughter Pooja is the Vice-President of our village Children's Council, and is studying for her B.A. from BBD Chimanpura College, Shahpura. I am with her today to fight side by side – together we can make India child marriage-free."
READ MORE ABOUT THE CHILD MARRIAGE FREE INDIA CAMPAIGN