Everyone can raise their voice in the fight against child exploitation. We've provided some resources for anyone who is keen to learn more about child exploitation and how we're working to end this.  
WHAT IS CHILD LABOR?
CHILD LABOR DEFINITION
Child labor can be defined as work that deprives children of their childhood, their potential, and their dignity, and that is harmful to physical and mental development. It refers to work that:
– is mentally, physically, socially or morally dangerous and harmful to children; and/or
– interferes with their schooling by: depriving them of the opportunity to attend school; obliging them to leave school prematurely; or requiring them to attempt to combine school attendance with excessively long and heavy work.
HOW MANY CHILDREN ARE CHILD LABORERS?
Almost 1 in every 10 children is a child laborer. Between 2000 and 2012, almost 80 million children were taken out child labor. However, progress has not only slowed, it is in reverse: between 2016 and 2020 child labor increased, with 160 million children in child labor, and almost half – 79 million – in the worst forms, including slavery, sexual exploitation, and armed conflict. By the end of 2022, the ILO is predicting the number of child laborers will increase again, to almost 170 million. ​
It is important to note that these figures are classified as estimates, and the true number of child laborers is likely to be higher. This is due to the 'hidden' nature of many forms of child labor, including slavery.
WHERE DOES CHILD LABOR HAPPEN?
Child labor happens everywhere in the world – it is not exclusive to the world's low-income countries, although poorer countries have far higher rates of child labor. Africa is now home to more child laborers than the rest of the world combined, and child labor has been increasing across sub-Saharan Africa for the past decade. There are 86.6 million child laborers in sub-Saharan Africa. In central and southern Asia, there are 26.3 million child laborers, with the majority likely to come from India and Bangladesh. In India, Bihar, Uttar Pradesh, Rajasthan, Madhya Pradesh, and Maharashtra are the main states where child labor is present. No region has zero child labor: in Europe and North America, for example, it is estimated that there are 3.8 million child laborers.
WHICH PRODUCTS USE CHILD LABOR?
Child labor is known to be used at some stage in the supply chains for products ranging from cosmetics to electric cars, chocolate to smart phones. Cosmetics which have shiny pigmentation often use a mineral called mica, and child labor is known to be part of the mica supply chain. Cobalt is used in the production of many electronic products, and once again children are part of the cobalt mining sector. 1.56 million children are trapped in child labor in the cocoa fields of Ghana & Côte d'Ivoire – together, these two countries alone produce almost 60% of the world's chocolate. Across India, there are a few sectors noted for high child labor employment and poor working conditions: brick kilns, carpet weaving, garment making, domestic service, unorganised sectors (food and refreshment services such as tea stalls), agriculture, fisheries and mining.
However, the vast majority of child labor occurs in agriculture, with 70% of child laborers toiling in the fields.
WHAT ARE THE CAUSES OF CHILD LABOR?
Poverty, discrimination, lack of access to public services including education, and extreme marginalization are the critical factors which lead to child labor. When families cannot earn enough money to survive, children are forced to work – as domestic laborers in the home or working in family farms, or going out to work in often dangerous situations such as mining and scavenging, or in 'hidden' situations such as working as domestic laborers in private households. Multiple types of poverty lead to these situations; for example, in countries or in local areas where families must pay for health care and education, the cost of living becomes unachievable without additional income from child labor – and if a family cannot pay for their children to attend school, then labor becomes the only option. Children and families who have fled their homes due to conflict or climate disaster are particularly vulnerable to child labor, as they rarely have access to education or financial support to survive.
WHY DOES CHILD LABOR STILL EXIST?
There is no reason child labor should still exist: global wealth has never been greater than it is today, despite the economic shocks created by the global pandemic. In 2021, the average wealth of a North American citizen was $59,496, compared to the average wealth of a sub-Saharan African citizen, at $1,612. Child laborers live in countries or in localities which have not received their fair share of financial resources, or access to the types of public services which can prevent and end child labor. Similarly, many countries have laws banning child labor, although not all laws are strong enough – for example, where the minimum age for full-time work is under the age of 18. Even when child labor is fully banned, those laws must be put in practice by governments, including hiring enough labor inspectors and regularly prosecuting perpetrators. However, nothing will stop child labor if families cannot afford to survive: the root causes of child labor must be tackled.
HOW DO WE END CHILD LABOR?
The Kailash Satyarthi Children's Foundation US advocates for a combination of solutions to end child labor once and for all. These include social protection for children and mothers, such as child benefits and cash transfer schemes; quality, public, and free education for every child for at least 12 years; and ending discriminatory and violent practices which force children into labor, such as child marriage.
Everyone has a role to play. You can raise the issue with your local government representatives, research the ethics of the companies you purchase from, and raise awareness in your community. You can also support our work by donating here!
OUR REPORTS
The Kailash Satyarthi Children's Foundation US supports Laureates and Leaders for Children and the 100 Million campaign to deliver international advocacy. A selection of policy reports are available below.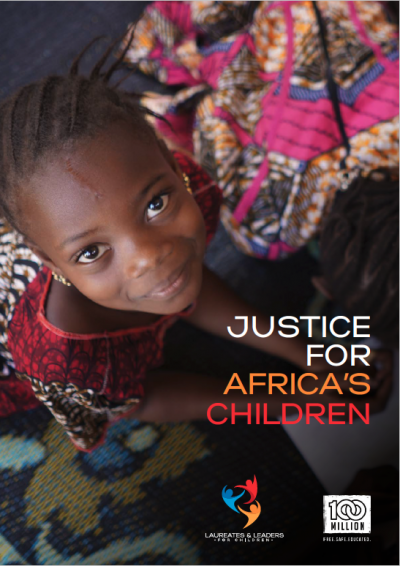 JUSTICE FOR AFRICA'S CHILDREN
2023 Report
Justice for Africa's Children' report finds massive international and national injustices have contributed to rise in child labourers, children out of school, and child hunger across Africa.
Laureates and Leaders for Children & 100 Million, January 2023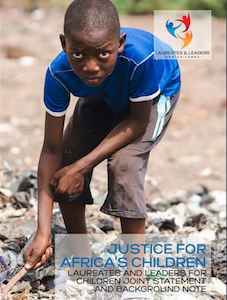 JUSTICE FOR AFRICA'S CHILDREN
Statement and Background Note
Signed statement by 95 Nobel Laureates and world leaders calling for Justice for Africa's Children in advance of the 2022 EU/AU Summit.
Laureates and Leaders for Children, February 2022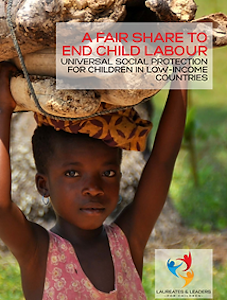 A FAIR SHARE TO END CHILD LABOUR
Report
Universal social protection for children in low-income countries to end child labor
Laureates and Leaders for Children, September 2021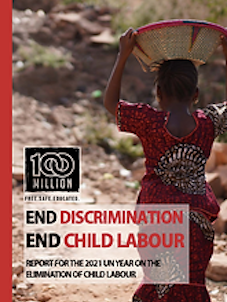 END DISCRIMINATION, END CHILD LABOUR
Report
Child labour has increased for the first time in 20 years. This report calls out governments for discrimination which has forced millions more into child labour and demands urgent action.
100 Million, June 2021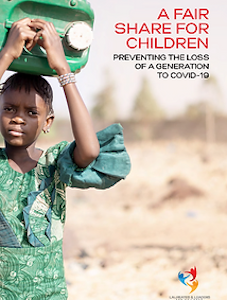 A FAIR SHARE FOR CHILDREN
Report
Preventing the loss of a generation as a result of the global pandemic.
Laureates and Leaders for Children, September 2020