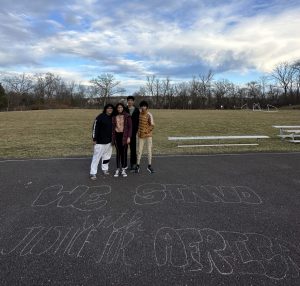 As part of the global Justice For Africa: Don't Cut Our Future campaign, youth activists from 100 Million US, supported by KSCF US, took part in solidarity actions on the 20th February, World Social Justice Day. From coast to coast, students advocated in front of government buildings in their communities, handed out information flyers, and chalked the streets (image left).
Since 2015, when world leaders promised to leave no one behind, there has been a huge rise in the violation of African children's and young people's rights. From the extreme inequality in COVID-19 support to increasing tax injustice, the growing debt crisis, and broken promises on climate and development finance, African countries have lost out on trillions of dollars. Global wealth has grown by over $11 trillion in the last seven years, yet wealth per person has fallen in Africa.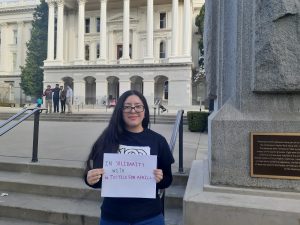 Campaigner Nohely Diaz at the State government buildings in Sacramento, California
Combined with the low priority for education and poor governance in many countries, these injustices exclude millions of children and young people. More African girls and boys are out of school now than ten years ago. Over 10,000 children are forced into child labor every day. The global student and youth movement has been using its collective power to expose these injustices and convince governments to act – including student and youth activists across the US.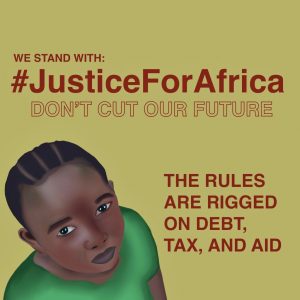 California activist Anisha Agarwala created and promoted a digital art piece to demonstrate and share solidarity (image left).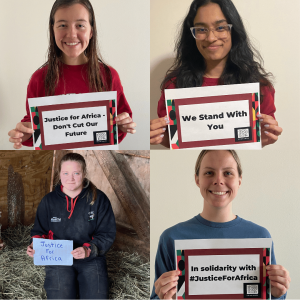 In Boston, youth activist Kate Mallory educated students on her campus about the calls of youth activists in Africa, created a flyer, and collected and shared their photos in solidarity.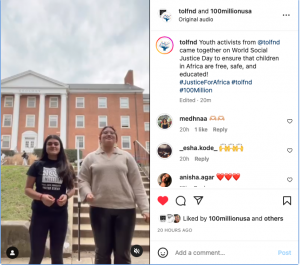 In Maryland, Medhnaa Saran created a video with fellow youth activists to post in solidarity.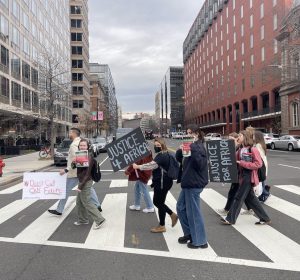 In DC, youth activists took to the streets with signs and posters (main picture and image left). They distributed flyers, informed the public about the call for solidarity, and mobilized in front of the White House. 
All week, 100 Million US will be sharing the individual actions that took place all over the country, as well as sharing the amazing actions that took place in countries from Ghana to Chile, from Burundi to Germany, and from Kenya to Nicaragua.
Follow 100 Million US on instagram: @100millionusa.