Last month, Laureates & Leaders for Children convened a virtual summit (#FairShare4Children) – its third ever convening – bringing together Nobel Laureates, world leaders, visionaries and youth activists to discuss the urgent situation facing vulnerable and exploited children in the wake of COVID-19. An initiative of the Kailash Satyarthi Children's Foundation US, and led by founder Kailash Satyarthi, this growing movement committed themselves to globalizing compassion for the world's most marginalized children and finding solutions to address the devastating impact the pandemic is having. They recognized that urgent action must be taken in order to meet the UN's goal of eliminating child labor in all of its forms by 2025. 
The Summit built upon a joint statement released in May, in which 88 Laureates and Leaders called on government leaders to dedicate one trillion dollars to "fund all outstanding UN and charity COVID-19 appeals, cancel two years of all debt repayments from low-income countries, and fund two years of the global gap to meet the sustainable development goals (SDGs) on health, water and sanitation, and education – a vital step, as quality education is the most powerful way to end exclusion and change the future for marginalised children."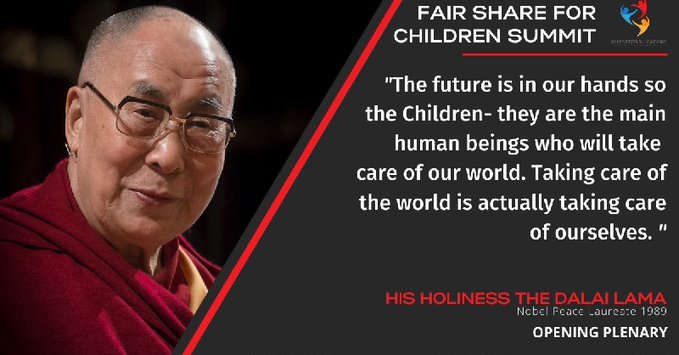 Throughout the #FairShare4Children summit, featured speakers and panelists echoed this call for action focusing on specific areas including:
On food insecurity and ending child hunger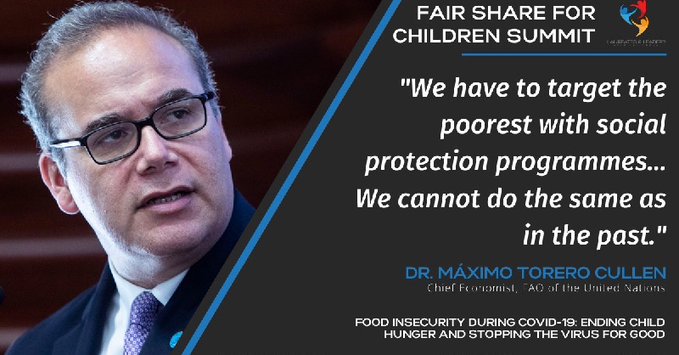 On the economic exploitation of children and the role of global supply chains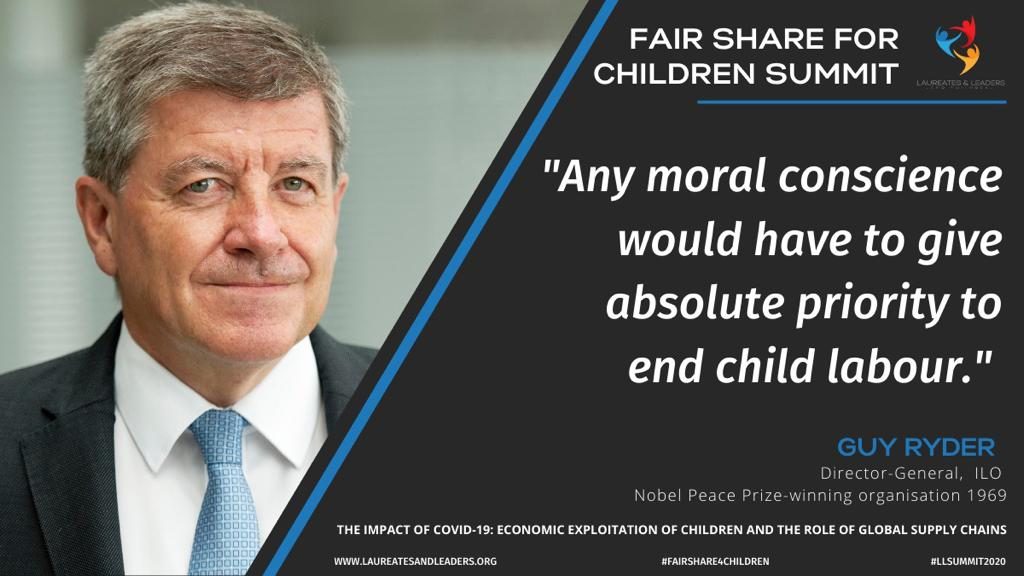 On the education crisis: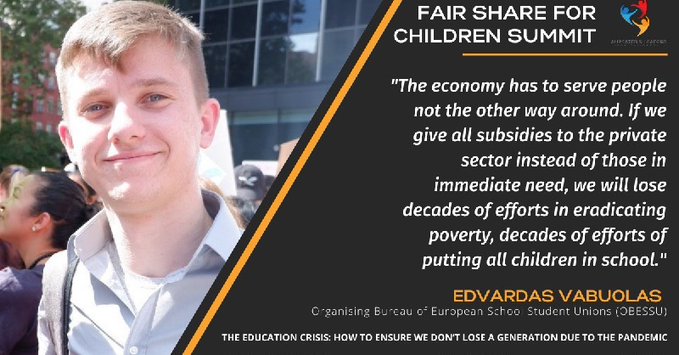 On the increased vulnerability of children on the move: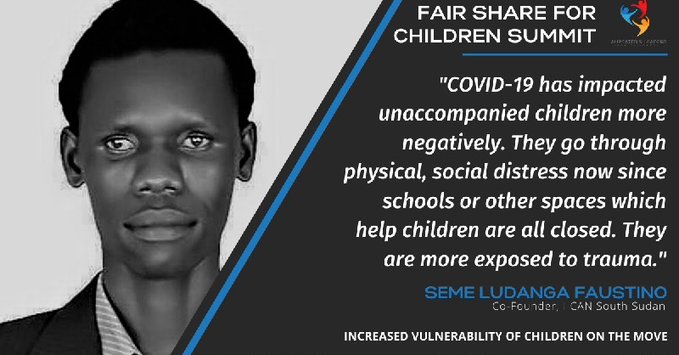 As part of the summit, Laureates & Leaders also released the Fair Share for Children research report, with findings showing how COVID-19 could turn the clock back a decade on the progress made on child labor, education, hunger, poverty and health for millions of children. Only 0.13% of all COVID-19 recovery funding has been allocated to the most marginalized communities — these findings are stark and demonstrate why immediate action needs to be taken by governmental leaders to prevent millions of children from slipping into extreme poverty and suffering devastating physical and emotional impacts.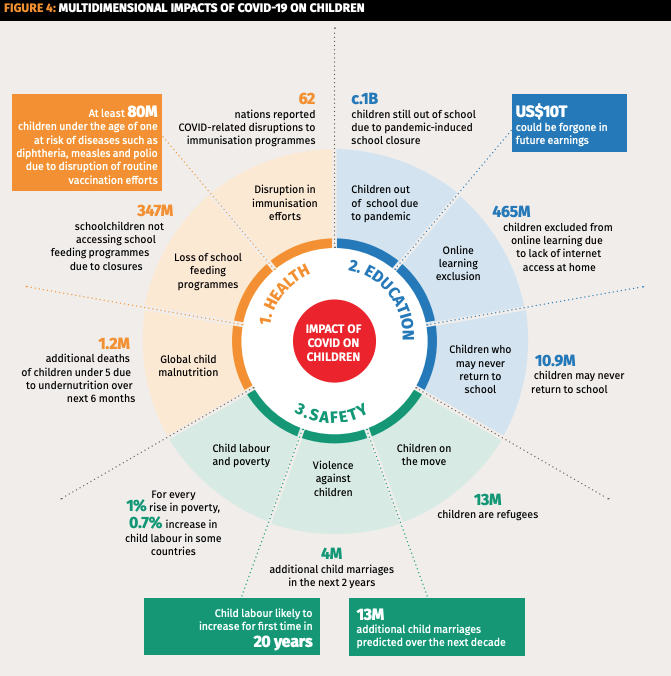 The Summit was able to provide a path forward with recommended actions to ensure an entire generation of children is not lost to this pandemic. With US $1T, we can address the urgent needs of the world's 20% most marginalized children and communities and save more than 70 million lives. In addition to this need for immediate funding, in order to end all forms of child labor by 2025, we must reinforce the systems and structures currently in place. This includes strengthening social protections, implementing existing laws, and creating new due diligence legislation that will cover all tiers in the global supply chain so that businesses will invest in compliance measures to eliminate and prevent child labor, trafficking and slavery.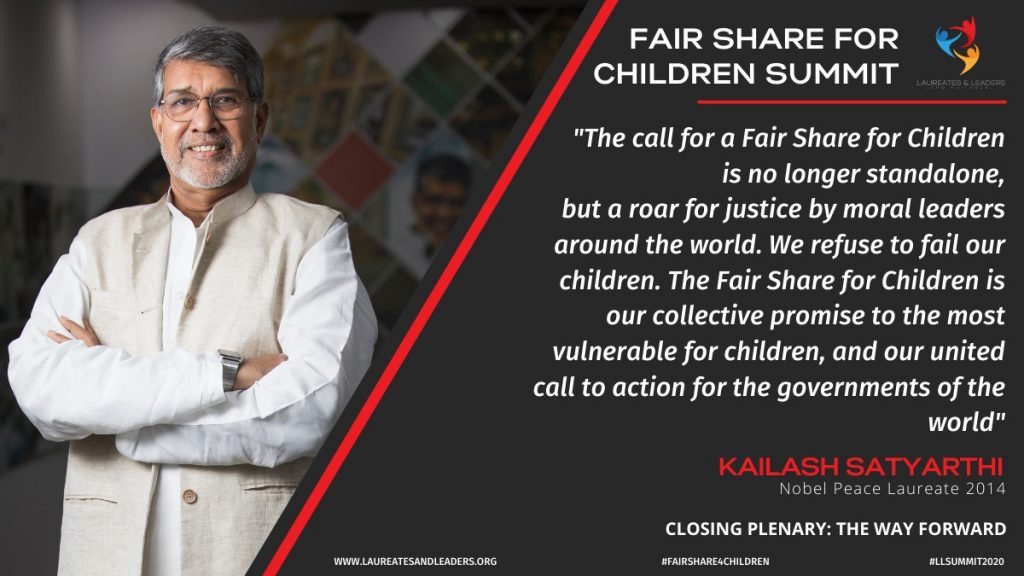 If you were unable to attend the Summit, you can watch a recording of the live stream here and stay connected with KSCF-US and Laureates & Leaders to learn how you can "do your bit" to help with this ongoing crisis.