WHAT WE DO
We free children from child labor, slavery, and trafficking by using our experience and knowledge to change national and global ecosystems for every child to have their rights to freedom, safety, health, and education.
We invest in grassroots, local, and national organizations working to free and rehabilitate child laborers and victims of child trafficking, slavery, and sexual abuse. They work in partnership with the authorities to deliver survivors' rights to health, education, and justice. 

We bring together passionate actors for the rights of children everywhere to share their knowledge, experience, and influence to achieve innovative and impactful policy and systems change at every level.

We invest in survivor-led campaigns and youth-led representation to change policy and law at local, national, and international levels.

We work with the private sector to create child-focused business practices, and bring businesses and survivors together to advocate for national and international legislative change.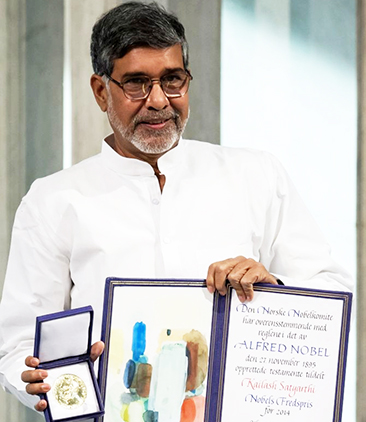 Kailash Satyarthi has been a tireless advocate of children's rights for more than three decades. In 2014, he was jointly awarded the Nobel Peace Prize for his struggle against the suppression of children and young people and for the right of all children to education.
Mr. Satyarthi and the grassroots movement founded by him, Bachpan Bachao Andolan (Save the Childhood Movement), have liberated more than 100,000 children from exploitation and developed a successful model for their education and rehabilitation. He has been at the forefront of driving child-related agendas into the United Nations Sustainable Development Goals (SDGs). He has also highlighted the need of governments to prioritize the child-related SDGs and put children first.
As a global campaigner for children's rights, Kailash Satyarthi founded the Global March Against Child Labor, the largest civil society network for the most exploited children. The 1998 march covered 80,000 kms across 103 countries and culminated in the unanimous adoption of the ILO Convention 182 on the Worst Forms of Child Labor.
He is also the founding president of the Global Campaign for Education, an exemplar civil society movement working to end the global education crisis, and GoodWeave International, which raises consumer awareness and positive action in the carpet industry.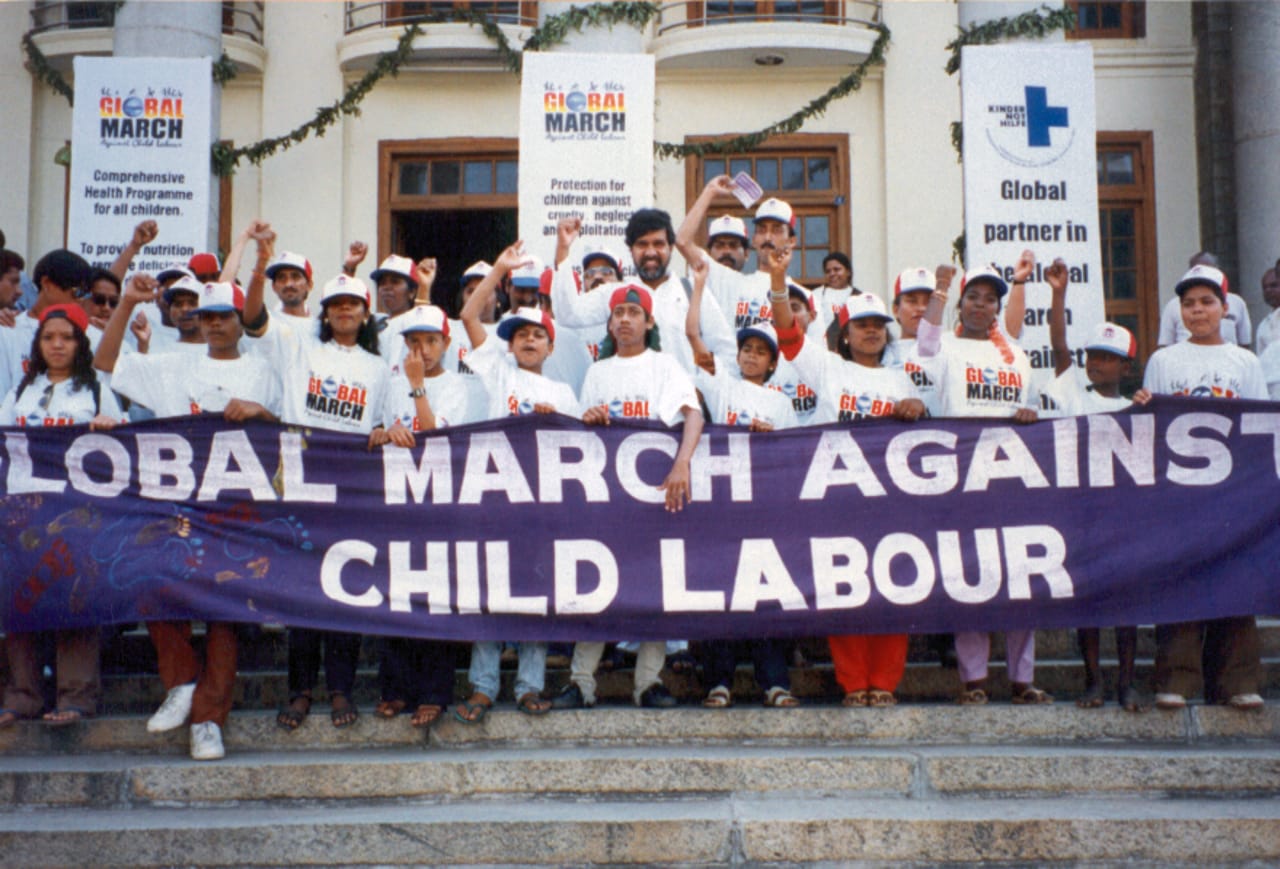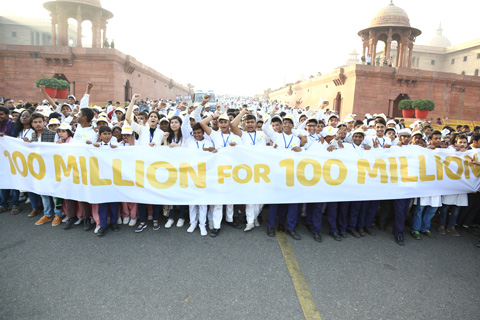 In 2016, Mr. Satyarthi co-founded the 100 Million campaign, alongside 6,000 youth activists including survivors of child exploitation. 100 Million is a global, youth-led call to action for a world where all young people are free, safe and educated. Led by a Board of Trustees with a supermajority of members under 30 years old and representing more than 50 million young people, 100 Million supports young people to mobilise to end violence against children, eradicate child labour, and ensure education, breaking the cycles of illiteracy, poverty and violence for good.
In 2017, Mr. Satyarthi, along with hundreds of young people, launched the Bharat Yatra: an 11,000 km march across 22 Indian states in 35 days, to spark a national dialogue on child trafficking and sexual abuse. More than 800,000 people participated in over 200 events across India. Following the Yatra, a national campaign continued to stop child sexual abuse in India, which was supported by a partnership with Indian broadcaster NDTV. Since 2022, KSCF US has been funding the 'Access to Justice' program, which supports victims of child sexual abuse and trafficking to receive restitution and rehabilitation, and to bring perpetrators to justice.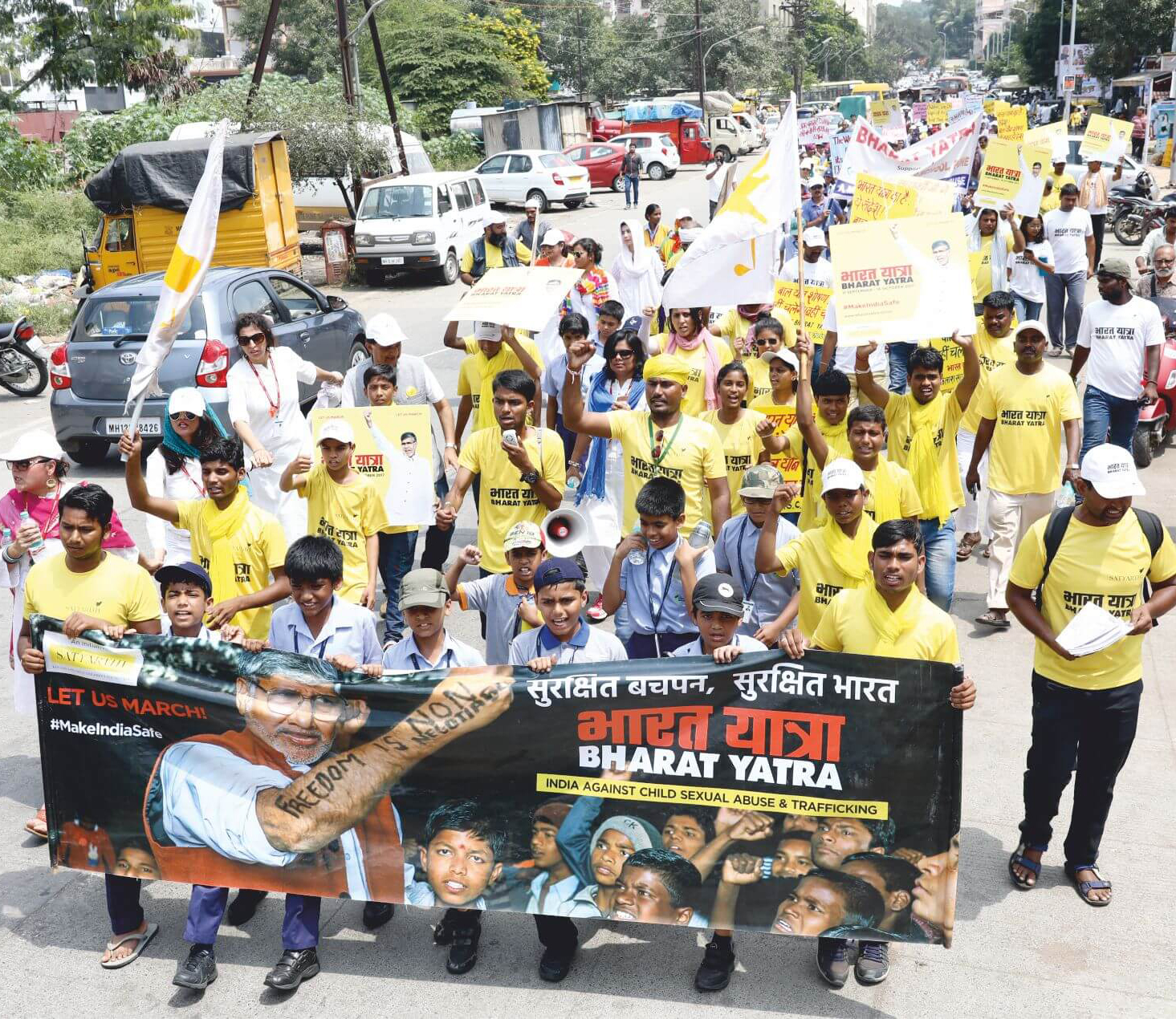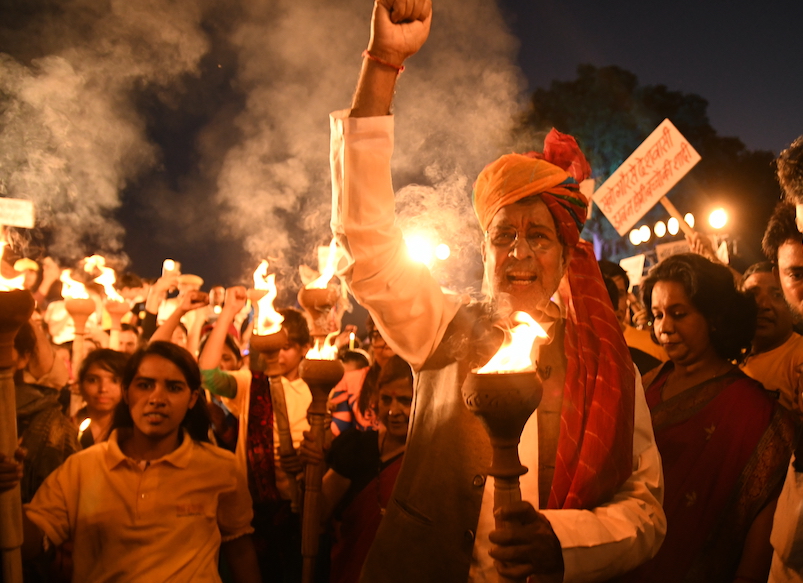 In 2021, the International Year for the Elimination of Child Labor, Mr. Satyarthi was appointed by the UN Secretary-General Antonio Guterres to the role of Sustainable Development Goal (SDG) Advocate.
In 2022, the Child Marriage Free India campaign was launched. Inspired by the many young women and girls in KSCF's Child Friendly Villages who had prevented their own child marriages, Mr. Satyarthi ignited the spark of a nationwide campaign, led by more than 70,000 women and girls, to more than halve the rate of child marriage in India by 2025.